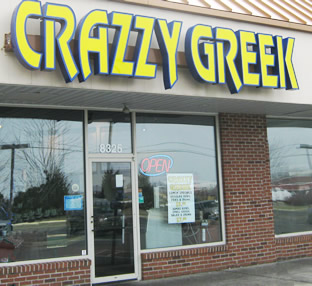 Crazzy Greek Restaurant
8325 Market Exchange Dr.
(off Lazelle Rd., east of Sancus Blvd.)
Westerville, OH 43081
Hours
Carry Out and Delivery
Mon-Thurs: 10:30am - 9:45pm
Fri-Sat: 10:30am - 10:15pm
Closed Sunday
Dine In
Mon-Thurs: 11am - 9:30pm
Fri-Sat: 11am - 10pm
Closed Sunday
(Open Sundays for Catering Events.
At Crazzy Greek, we are very interested in what you have to say in order for us to make your dining experience with us more enjoyable! Please take a minute to leave a review at one of the many restaurant review sites available to you.
Or, 'Like' us on Facebook and start sharing your comments and suggestions with your friends.
Who knows? Your suggestion might just lead to the next delicious menu item, featured here at Crazzy Greek.
Give us a review on Google+

State Your Case on BirdEye

Like and Share
on FaceBook